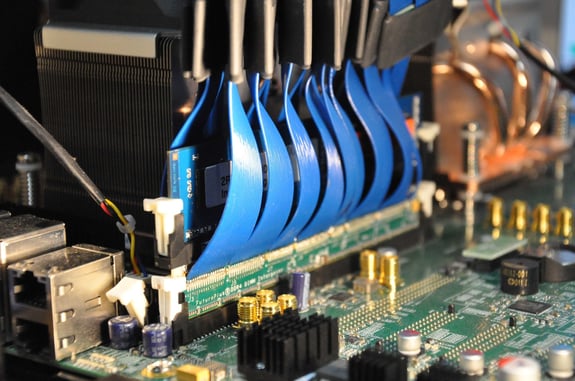 FS2521 DDR4 SO-DIMM Interposer
for use with the U4164A Keysight Logic Analyzer
The FS2521 is a logic analyzer probe used to test DDR4 SO-DIMM memory. When used with the triggering and analysis capabilities of Keysight's U4164A logic analyzer modules, it gives the user an extremely effective tool for debugging, testing and verifying DDR4 SO-DIMMs. Now qualified at 3200MT/s!!!!

View video – DDR4 Memory overview
Interposer Design – The FS2521 DDR4 SO-DIMM probe does not sacrifice a memory slot, so you can probe any DIMM, even in a fully populated memory bus.

All signals are probed passively.

Complete and accurate State analysis up to 3200MT/s. View Screenshot.

Use Timing mode for deep asynchronous analysis at 12.5 GHz.

Measure signal integrity of each bit on the DDR4 SO-DIMM with Keysight EyeScan application (5ps x 5mV).

View Screenshot.

Compatible with all 260-pin DDR4 SDRAM SO-DIMM.s

Quick and easy interposer connection between the DDR4 SO-DIMM memory bus connector and the U4164A Keysight logic analyzer module.

Lower Cost and higher signal fidelity with direct attach cables, no need for the added expense of U4201 cables.

An economy version is available, the FS2523 which monitors only the Address, Command and Control signals.
Software
The FS2521 includes DDR4 Protocol Analysis Software that provides both configuration files for the U4164A Keysight logic analyzer modules operating in 64 bit environments, as well as a license free copy of the FuturePlus DDR4 Protocol Decoder.
Note: FuturePlus has carefully simulated and designed this DDR4 SO-DIMM probe to work in your system and it extends the DDR4 bus less than 2.0 inches. Other factors can have a significant effect on the performance of the whole DDR4 bus analysis system including the BIOS settings of the memory controller, the target motherboard and SO-DIMM design, and the specific SO-DIMM socket being probed. All users are given 30 days to qualify this DDR3 SO-DIMM probe in their system.
Logic Analyzer Requirements
The FS2521 requires
– 1 M9505A AXle chassis
– 3 U4164A 136 channel Logic Analyzer Modules
Please note that the FS2521 only supports the U4164A. If you have 3 cards you can see the entire bus. If you have only 2 cards you can see all the Address/Command/Control and only 32 bits of data.