FEATURES
SET-UP
TRIGGER & STORE QUALIFICATION
PROTOCOL COMPLIANCE
PERFORMANCE ANALYSIS
TARGET PROBING
ORDERING INFO
LPDDR4 DETECTIVE FEATURES
Provides logic analyzer like deep transaction Listing and Waveform capture
Can store up to 1G of captured States at up to 3200MT/s
Continuous, real time analysis, not post-processing
2D (voltage & time) Eye Detector guarantees valid data acquisition on each signal
Extensive Triggering and Storage Qualification allows precise insight
Protocol Violation Detector provides hundreds of simultaneous, real time tests to JEDEC specifications
Mode Register Listing provided
Supports Auto-Clock rate detect and clock stoppage
Connects to the target under test with Flying Lead, BGA interposers or a midbus probe
Integrated Microsoft Charts gives quick insight into large trace captures
Trigger In & Out allows the Detective to integrate with other test tools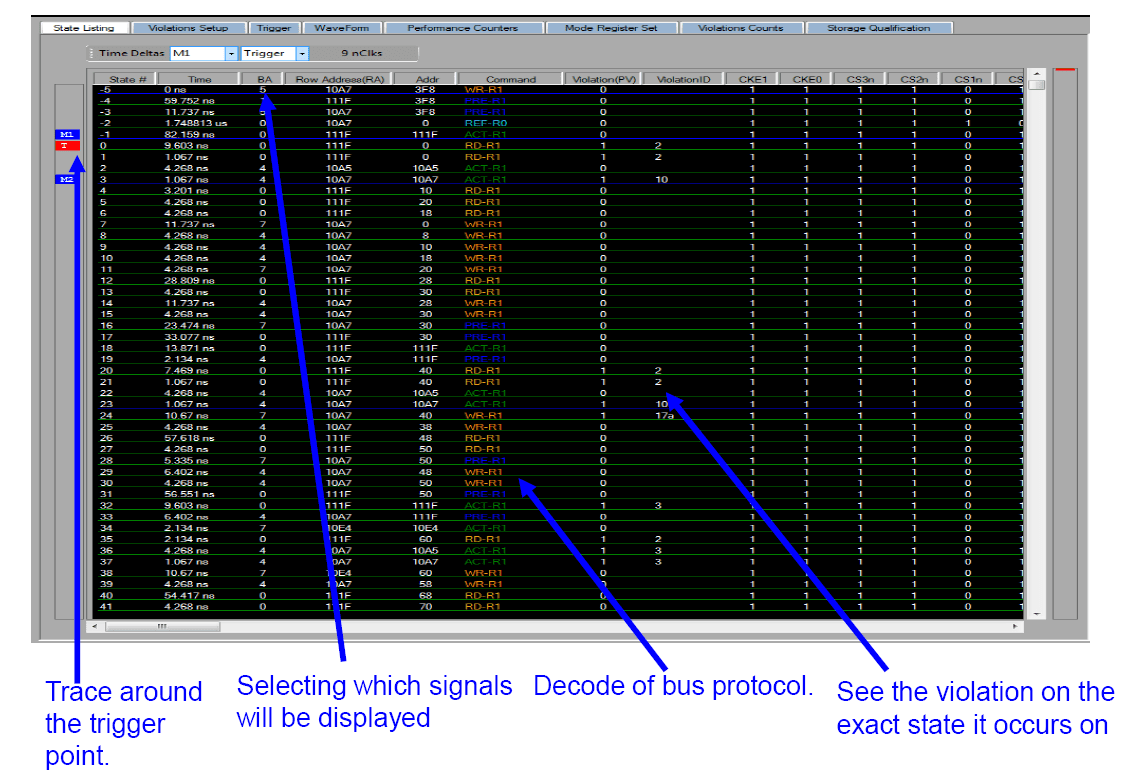 LPDDR4 Detective FIltered State Listing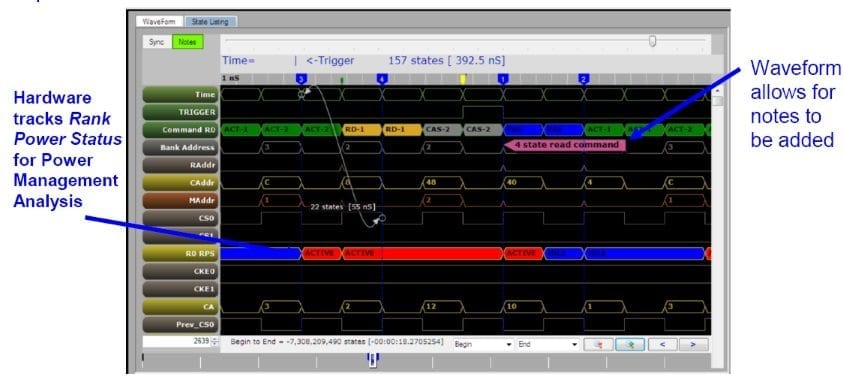 LPDDR4 Detective Filtered Waveform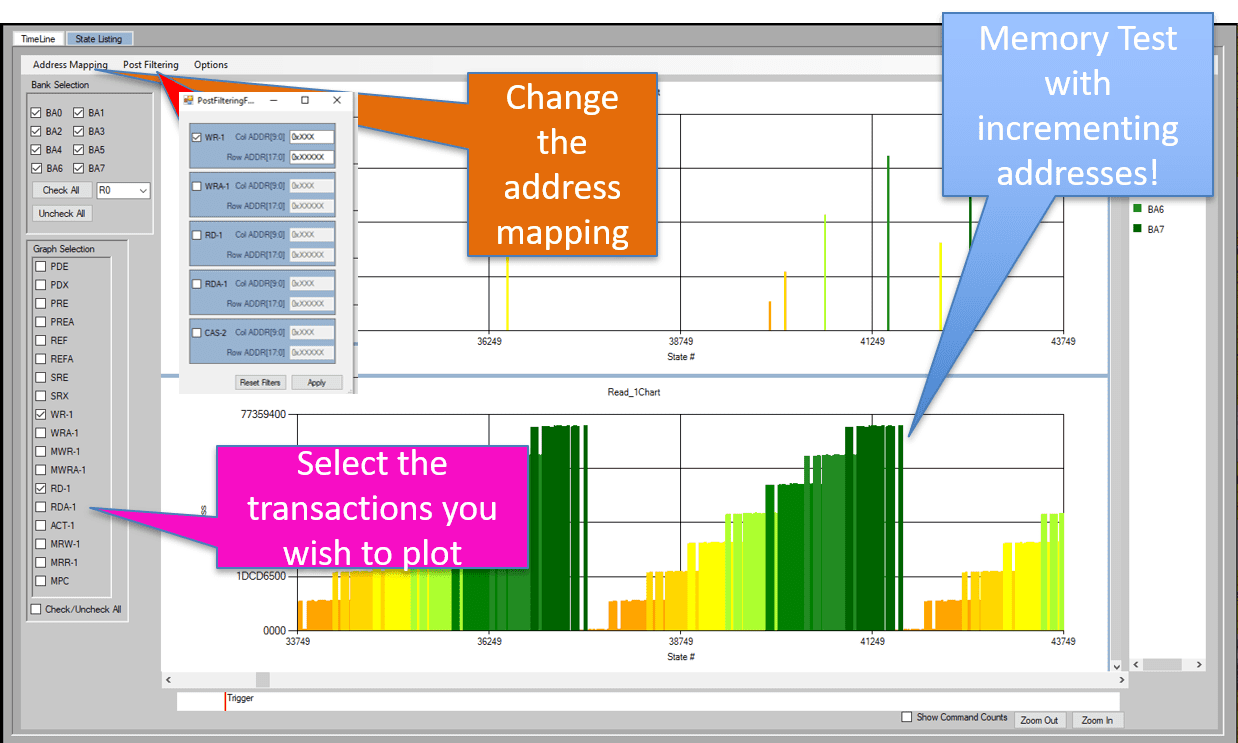 TimeLine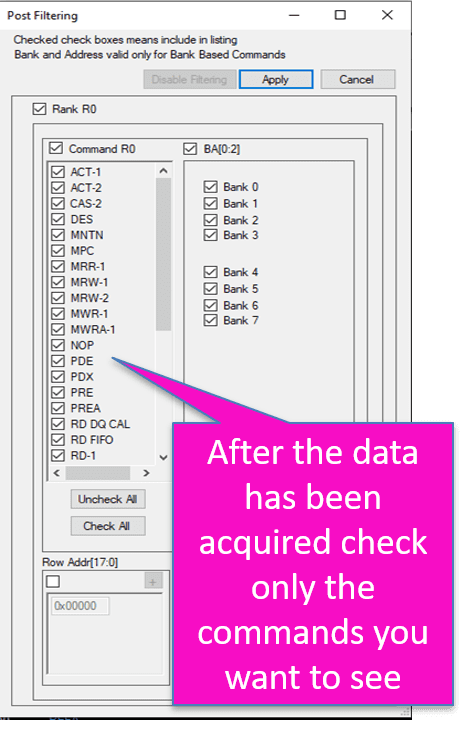 Post Process Filter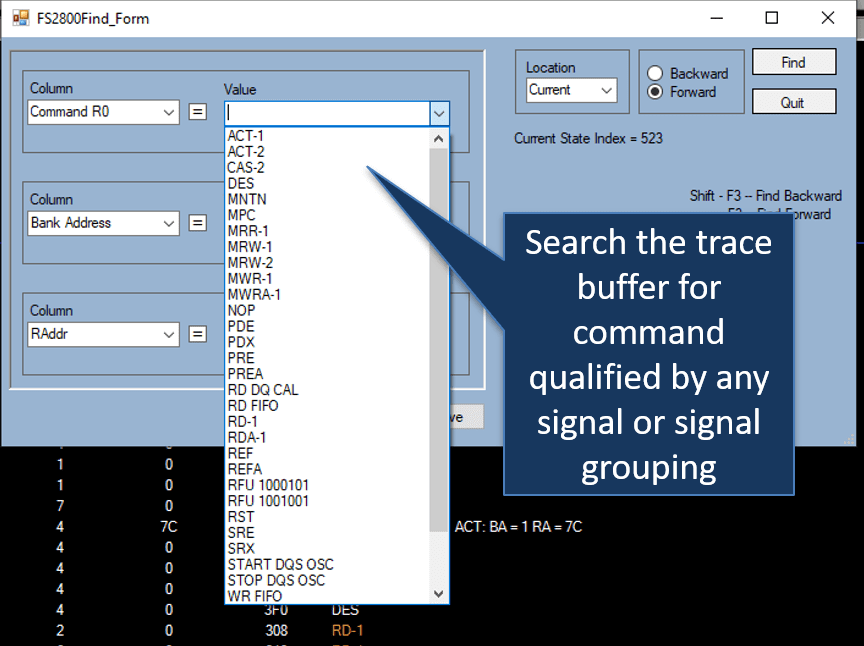 Find Tool
LPDDR4 Detective Set-up
Easy Setup Guide steps the user through the process
DDR Detective automated setup calibrates to your target and bus speed in 90 seconds. This allows for use in marginal systems
Several CK operating points are supported automatically
Final MRS values are automatically loaded into protocol analysis tools.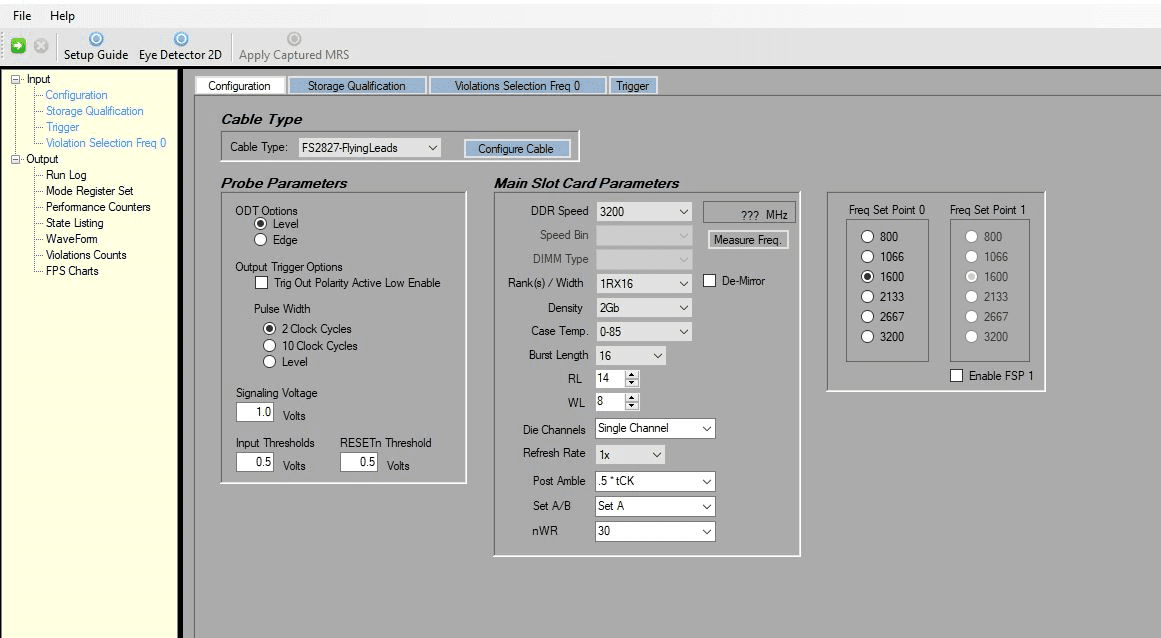 LPDDR5 Setup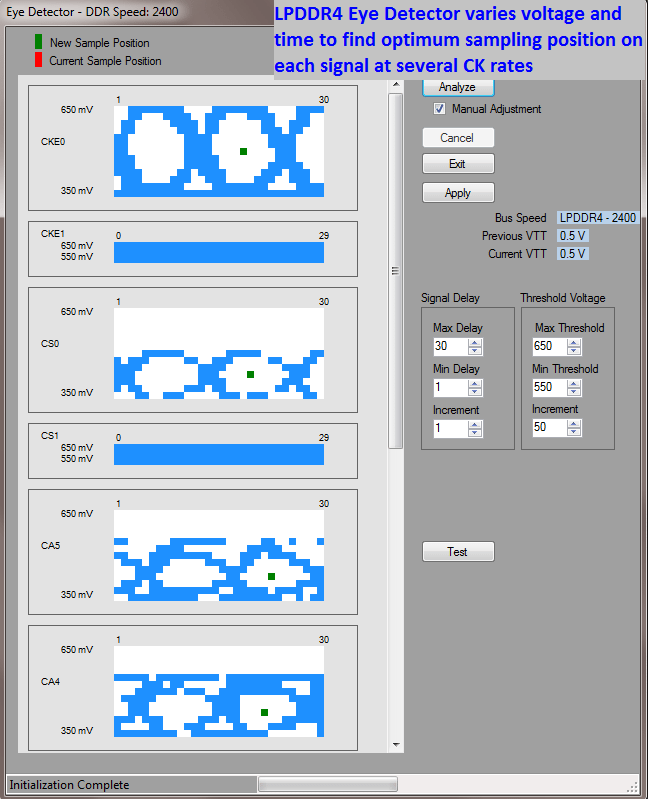 LPDDR4 Detective Eye Detector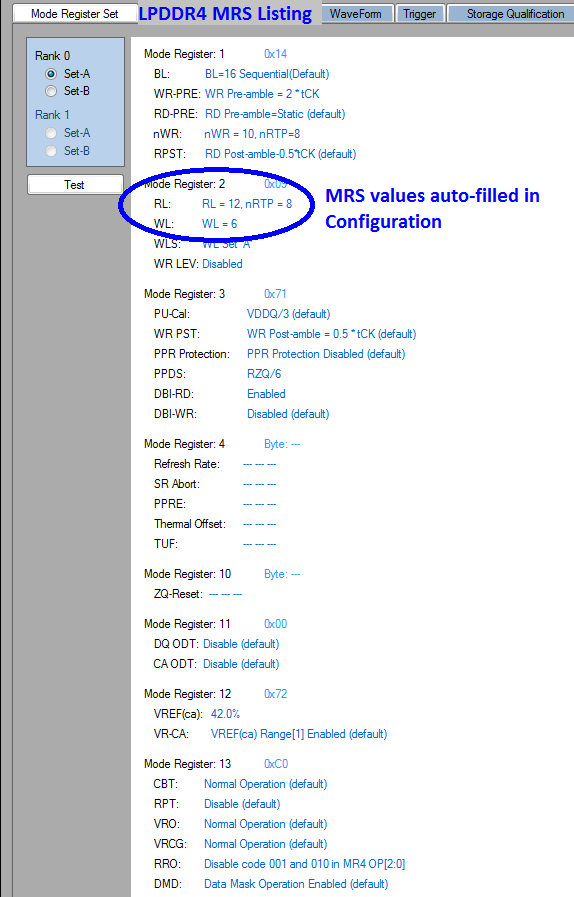 LPDDR4 Detective MRS Listing
LPDDR4 Detective Triggering and Store Qualification
Triggering Features
Full control of Trigger Position from 5% – 95% Post store.
Adjustable trace depth from 5K to 512M States
No need to define 4 states for a Command trigger, the Detective has them pre-defined.
External Trigger In and Out
Bit specific trigger set up ability across all A/C/C Commands and bus signals or LPDDR4 protocol violations
Store Qualification Benefits
Use any transaction with address as a store qualifier
Store only certain commands or just violations
Store only Accesses to a certain bank group/bank/rank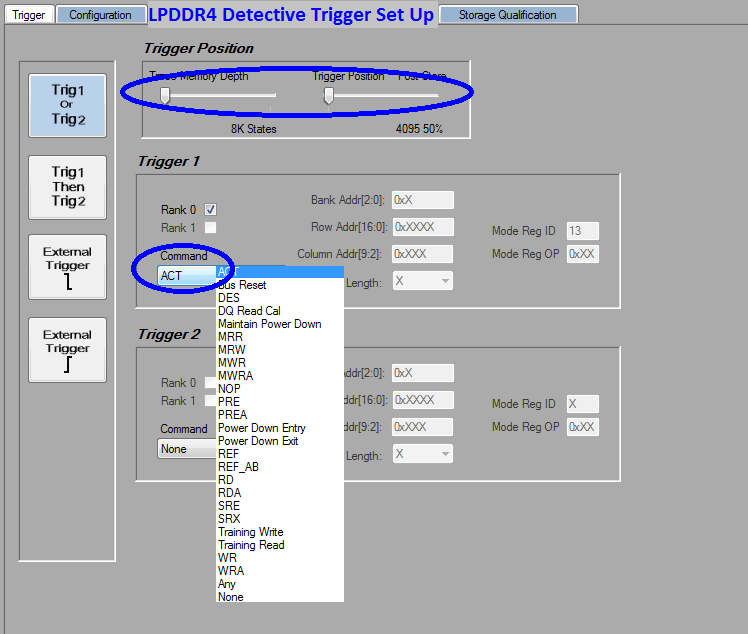 LPDDR4 Detective Trigger Set Up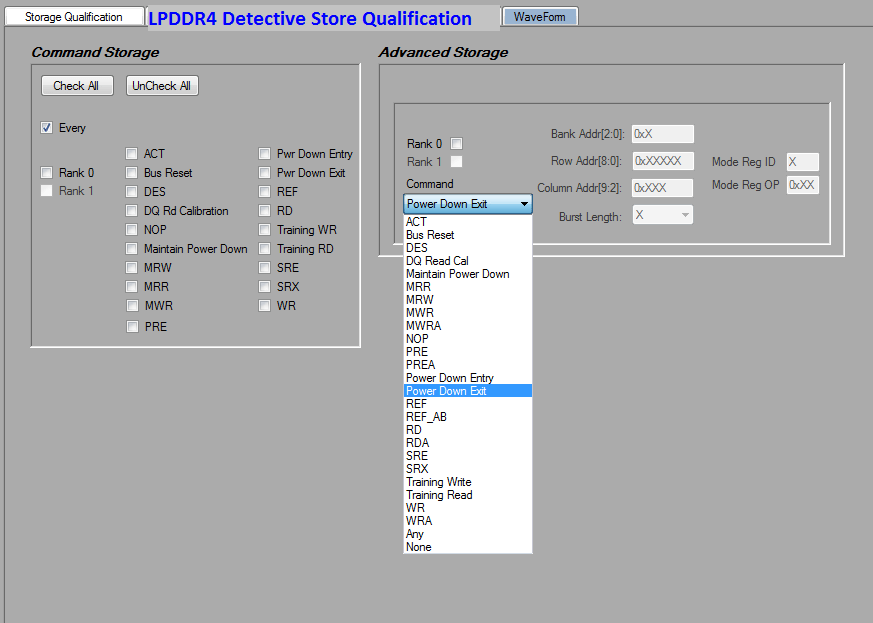 LPDDR4 Detective Store Qualification
LPDDR4 Detective Protocol Violations
Covers over 60 tests on all banks and ranks running over 1000 checks continuously and simultaneously. You never miss a clock cycle.
Automatically calculates protocol parameters based on JEDEC specifications and loads into the protocol checking function.
Allows user to override and enter other parameter values
Scoreboard display gives quick indication of what test is failing and displays running totals
Ability to enable and disable each compliance test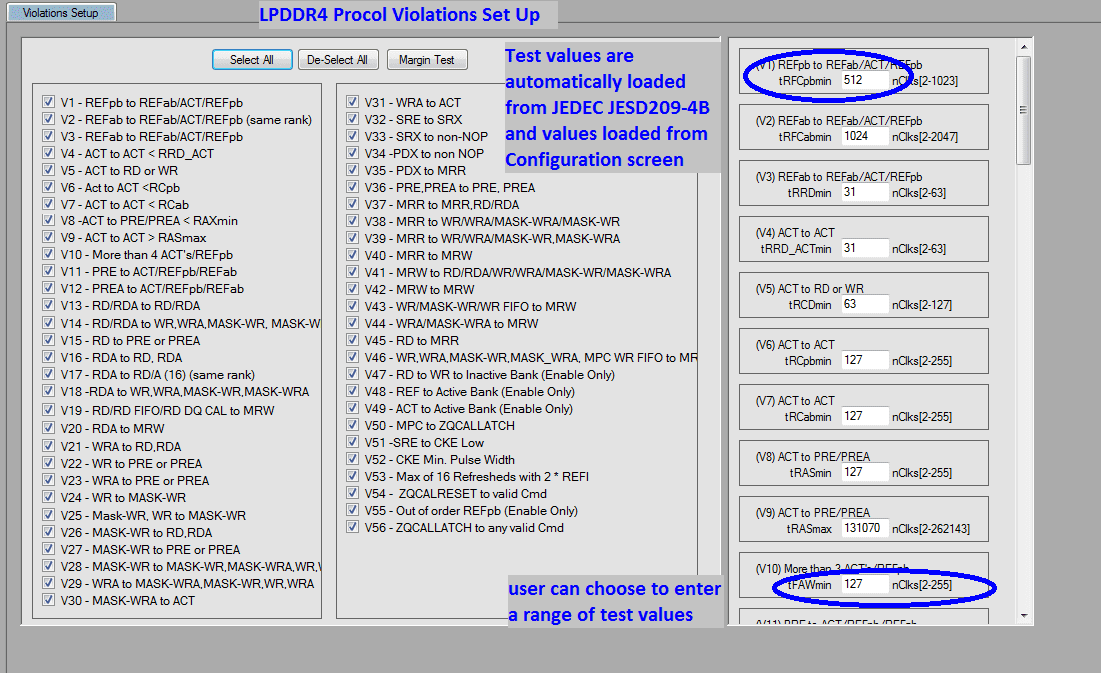 LPDDR4 Detective Protocol Violations Set Up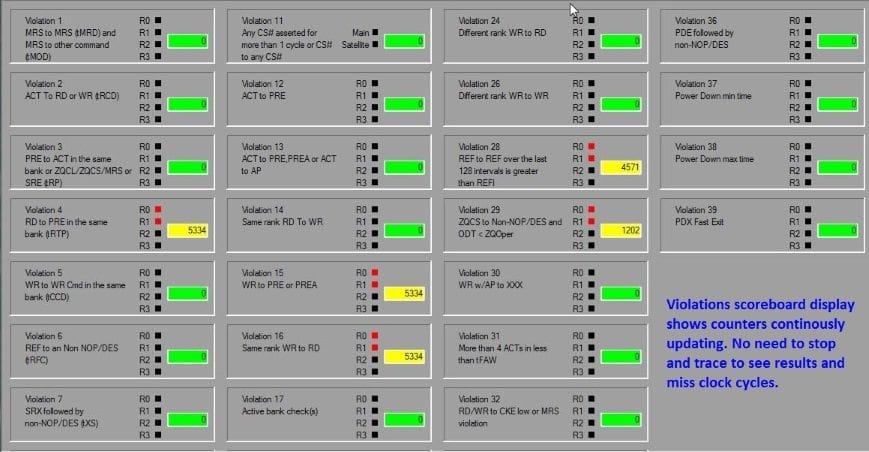 LPDDR4 Detective Protocol Violations Results
LPDDR4 Detective Performance Counters
Use real time counters to track multiple performance metrics:
Command and Data Bus utilization
Power management

LPDDR4 Detective Performance Counters
LPDDR4 Detective Probing
All 4 technologies DDR3, DDR4, LPDDR3 and LPDDR4 in one box with interchangeable probing choices!
SODIMM Interposer – DDR4 and DDR3, also LPDDR4 on module
BGA Interposer – various package formats for DDR4, DDR3, LPDDR4 and LPDDR3 – Contact us
Flying Lead – High speed coax wire solderable to pcb features
Mid-bus Connector-less probing – Industry standard "Soft-Touch Pro" compatible
The DDR Detective® gives the phrase 'cost effective' new meaning!
LPDDR4 on DDR4 SODIMM Interposer:
JEDEC Compliant 260 pin
Operation up to 3200MT/s
Interposer design saves a slot
Rigid/flex design allows for use in both RVS and STD connectors.
All signals are probed passively
Electrically extends the bus approximately 2.0 inch
72 bit operation supported
Simultaneous connection to Keysight Logic Analyzer available
BGA Interposer:
Quick and easy connection to most Keysight logic analyzer Chip Interposers
Scope Interposers can be used with Flying lead cable
Contact us on package requirements
Flying Lead cable:
Quick and easy connection to Keysight Scope Chip Interposers
Can also be soldered to pcb features
38 AWG wire
Mid-Bus Probe:
Single, dual and 3-head configuration available
Midbus probing is ideal for embedded applications where no DIMM or SODIMM slot is present
Connector-less midbus footprint can remain as part of the design throughout product life for service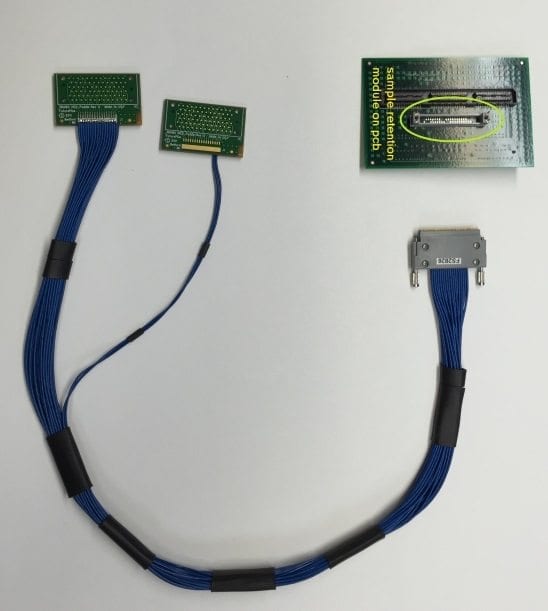 2 Head Mid-Bus cable FS2826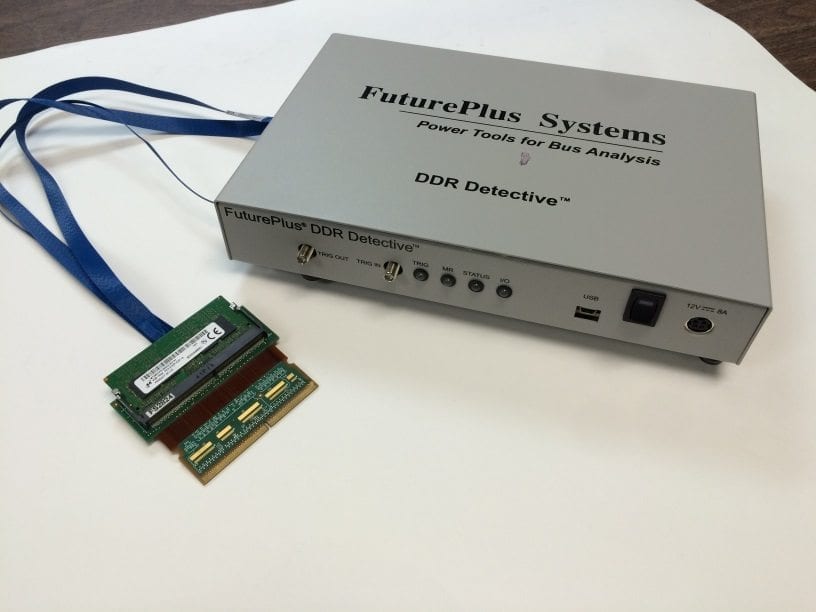 DDR4 Detective SO-DIMM probe FS2824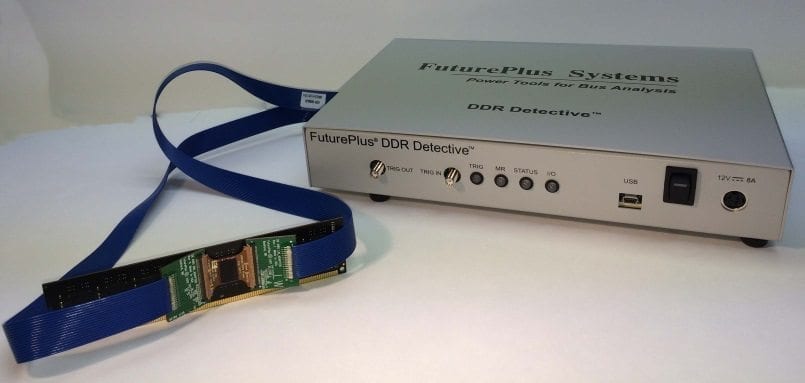 LPDDR4 Detective BGA probe with FS2425 cable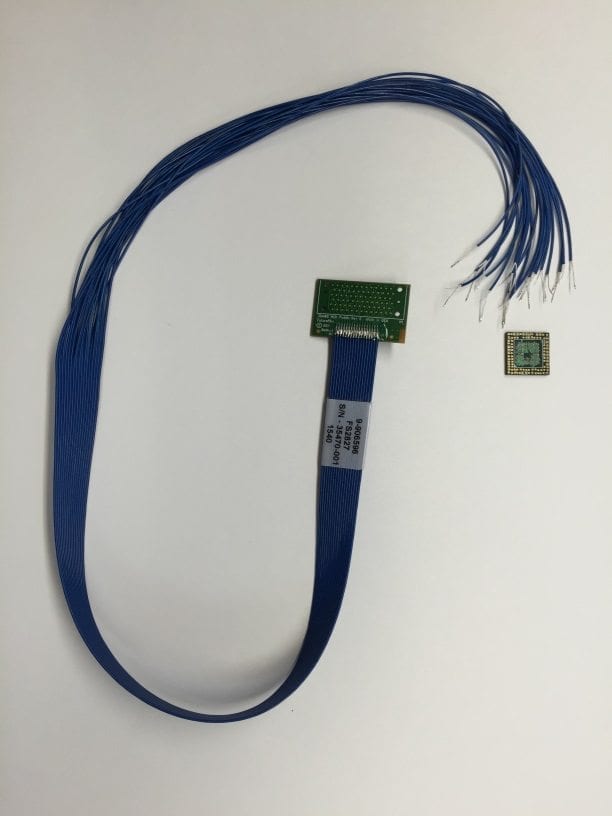 LPDDR4 Detective Flying Lead FS2827 w_ scope BGA

LPDDR4_BGA_FL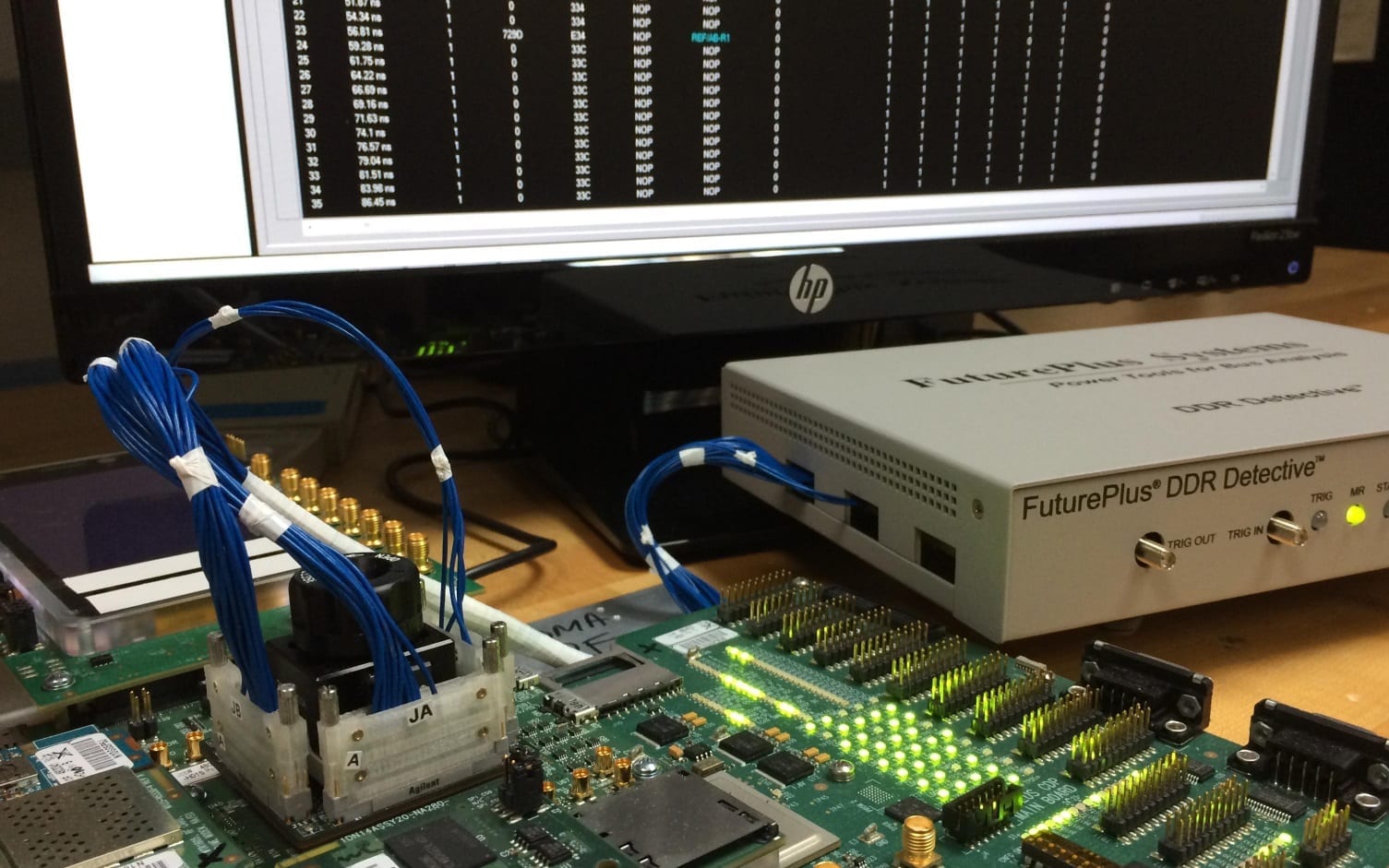 LPDDR4 testing
DDR4 Detective Ordering Information
FS2800 DDR3/DDR4 Trace DDR Detective
FS2805 Add LPDDR4 FS2804 functionality to the FS2800
FS2804 LPDDR4 Trace Detective
Probing Options
FS2424 DDR3 SO-DIMM A/C/C Interposer for DDR Detective (can support LPDDRx on SO-DIMM)
FS2421 DDR4 DIMM Satellite* Interposer for DDR Detective
FS2826 Midbus single head Soft Touch Pro adapter for the FS2800
FS2828 Midbus two head Soft Touch Pro adapter for the FS2800
FS2829 Midbus three head Soft Touch Pro adapter for the FS2800
FS2827 Flying Lead for use with Keysight scope interposers and FS2800
FS2425 DDR3 BGA Cable Adapter and SW upgrade to support Keysight BGA LA Interposer
Probing Options that include U4154A/B and U4164A Logic Analyzer connections
FS2436 DDR4 SO-DIMM Interposer A/C/C/DQ FS280x and LA